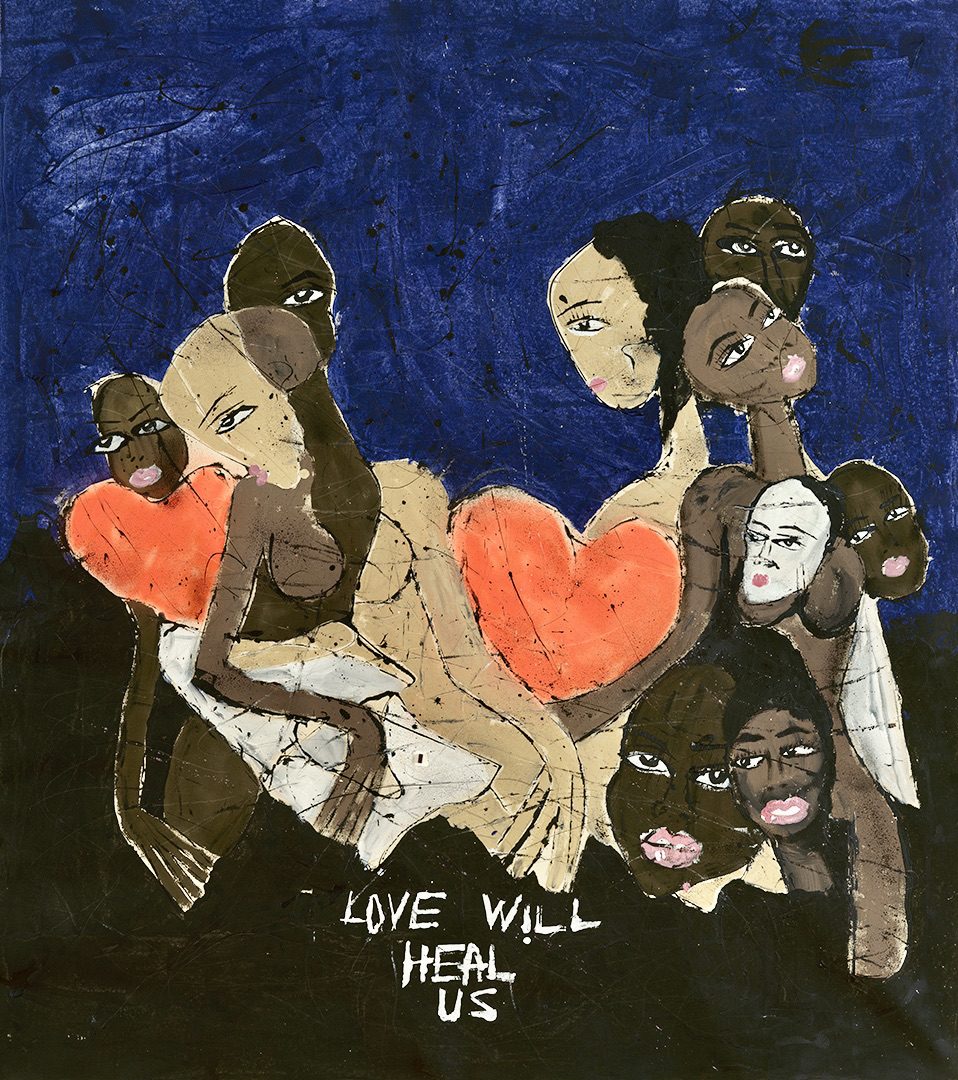 Art Exhibition
Love Will Heal Us - Runs 1/3-3/18 2022
Miles Regis
MCC Lounge
Art Exhibit runs January 3 to March 18, 2022
 Art Exhibit Opening Reception and Live Painting on Tuesday, Feb. 1st at 6pm
Artist Miles Regis' profound messages of love and unity provide inspiration in all aspects of life. Regis' work seduces his audience to look deeper where one uncovers undoubtedly poignant messages in every piece. The simplicity of black and white structure, starkly juxtaposed with the complex dimensions of color, seamlessly reflect our struggle, strength and triumph. His art is a reflection of our truth.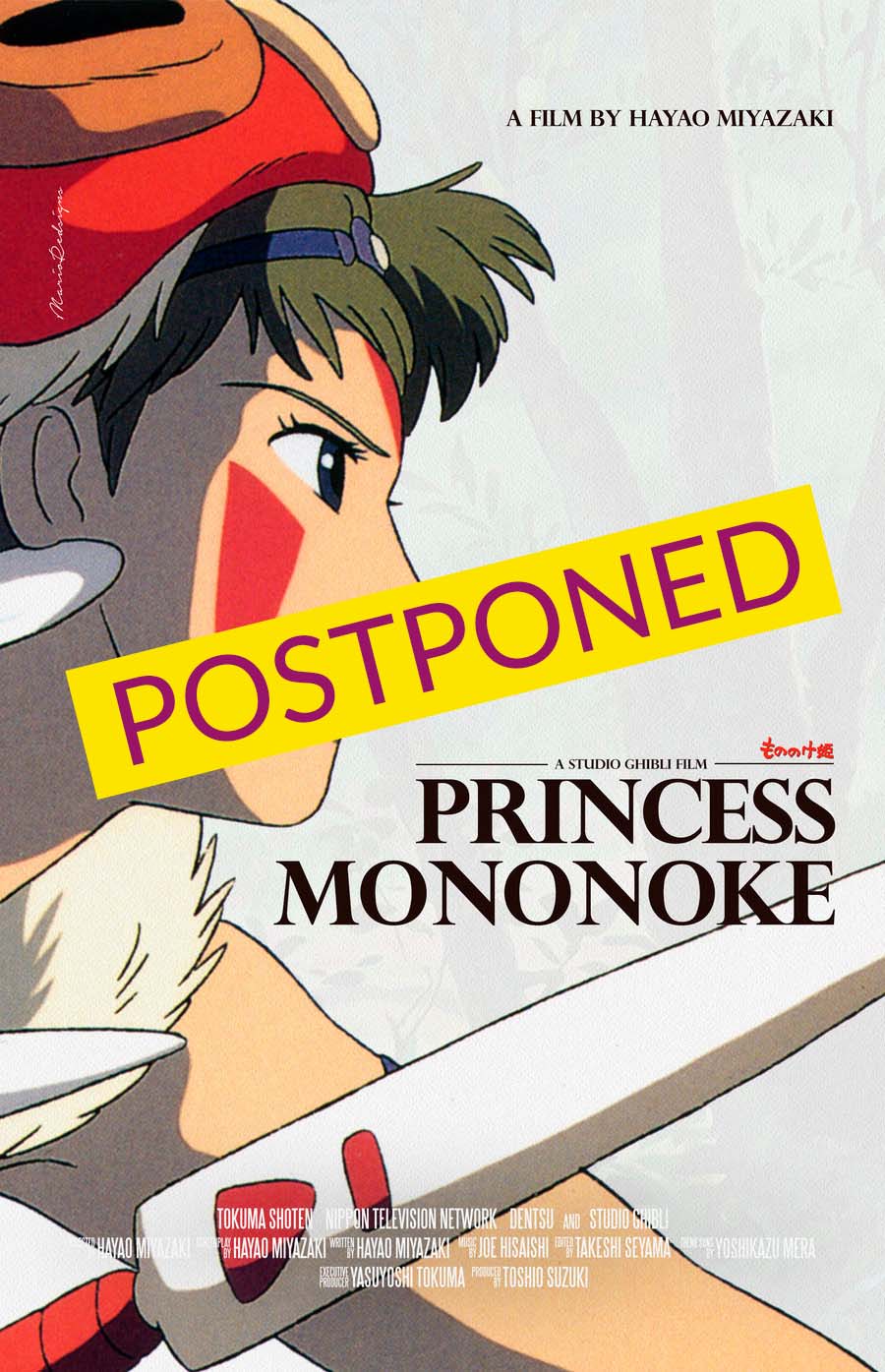 Cup of Culture
POSTPONED - Princess Mononoke
TBD
EVENT POSTPONED – UCSB will begin Winter quarter on January 3 with two weeks of remote instruction. In-person instruction will resume on January 18, subject to reassessment of the situation early in Winter quarter. Check back for updates on status and MCC events. 
A beautifully realized tale of civilization versus nature, Princess Mononoke is a true epic by Japan's master animator Hayao Miyazaki. While protecting his village from a rampaging boar-god, the young warrior Ashitaka becomes afflicted with a deadly curse. To find the cure that will save his life, he journeys deep into sacred depths of the Great Forest Spirit's realm where he meets San (Princess Mononoke), a girl raised by wolves. It's not long before Ashitaka is caught in the middle of a battle between iron-ore prospecting humans and the forest dwellers. He must summon the spirit-powers and all his courage to stop man and nature from destroying each other.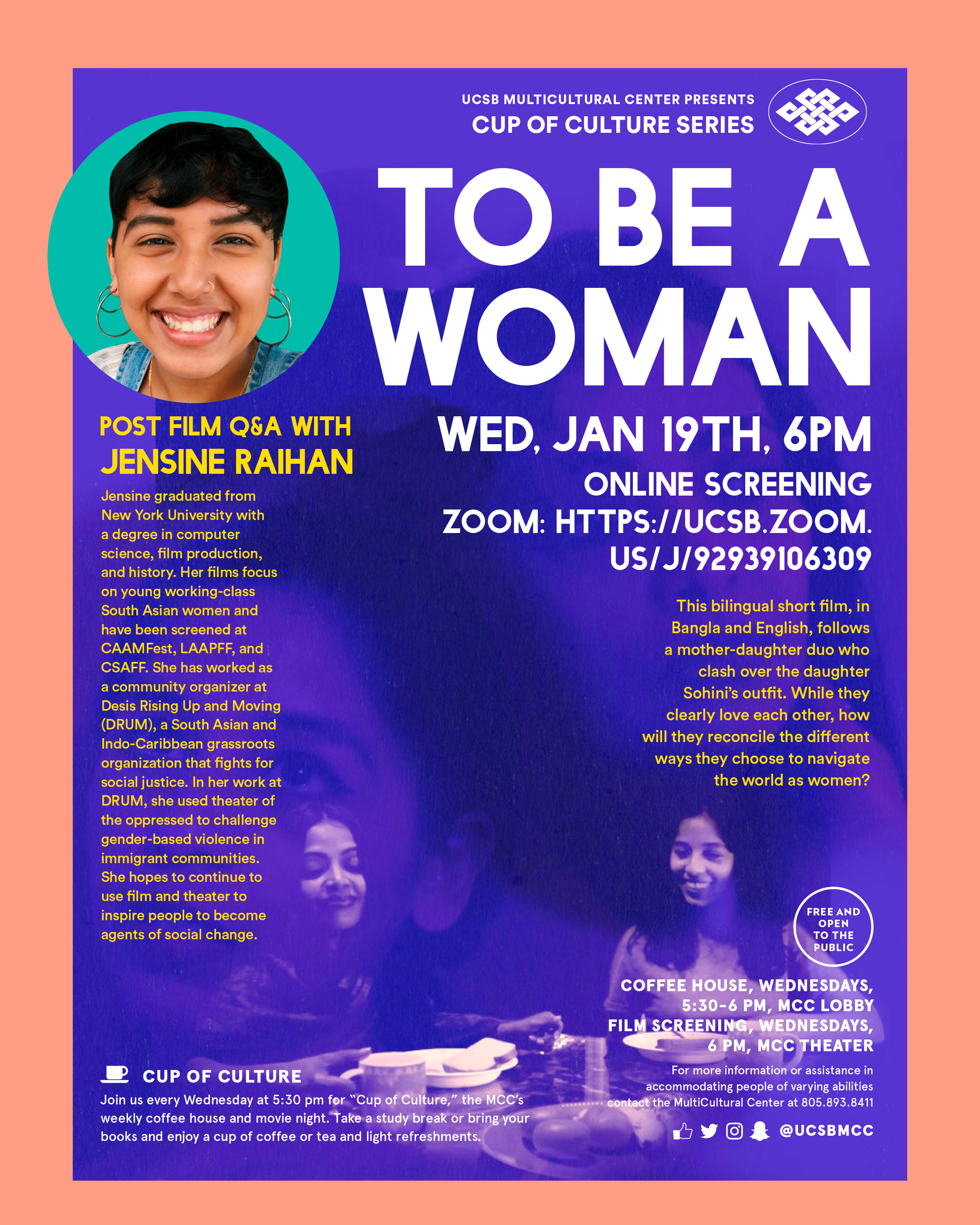 Cup of Culture
ONLINE - To Be A Woman
Director: Jensine Raihan
Online Film Screening
(1/7/21) - This event is now online.
This bilingual short film, in Bangla and English, follows a mother-daughter duo who clash over the daughter Sohini's outfit. While they clearly love each other, how will they reconcile the different ways they choose to navigate the world as women?
Post film Q&A with Jensine Raihan. 
Jensine graduated from New York University with a degree in computer science, film production, and history. Her films focus on the experience of young working-class South Asian women and have been screened at CAAMFest, LAAPFF, and CSAFF. For the past 8 years, she has worked as a community organizer at Desis Rising Up and Moving (DRUM), a South Asian and Indo-Caribbean grassroots organization that fights for social justice. In her work at DRUM, she used theater of the oppressed to challenge gender-based violence in immigrant communities. She hopes to continue to use film and theater to inspire people to become agents of social change in their own day-to-day lives.
Meeting ID: 929 3910 6309
Passcode: 933071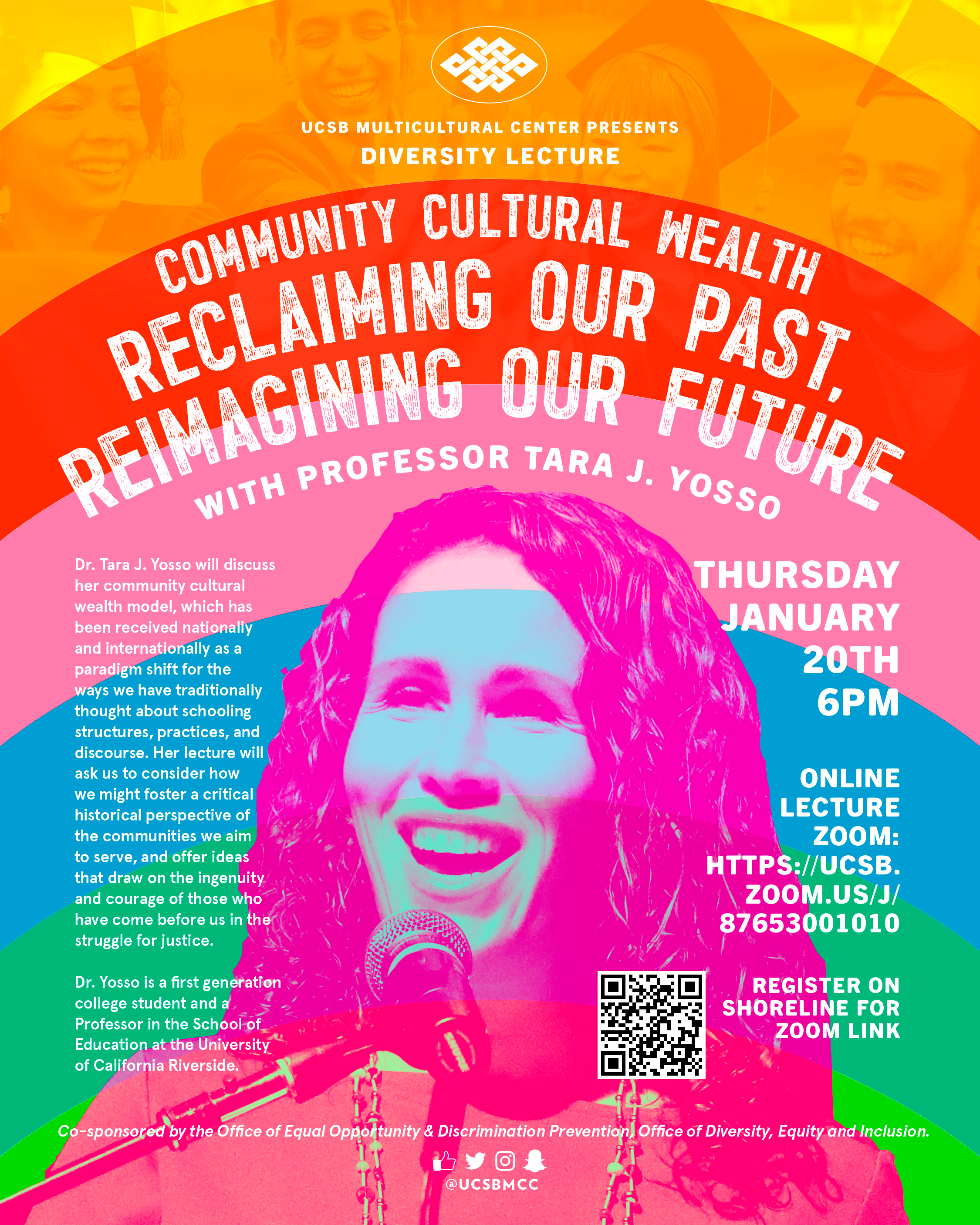 Diversity Lecture
ONLINE - Community Cultural Wealth: Reclaiming Our Past, Reimagining Our Future
Prof. Tara J. Yosso
Online - REGISTRATION REQUIRED
Prof. Yosso's virtual lecture will overview her community cultural wealth model, which has been received nationally and internationally as a paradigm shift for the ways we have traditionally thought about schooling structures, practices, and discourse. Her talk will ask us to consider how we might foster a critical historical perspective of the communities we aim to serve, and draw on the ingenuity and courage of those who have come before us in the struggle for justice.
Tara J. Yosso examines access to educational opportunities for Students of Color at critical transition points in their schooling trajectories (e.g. high school to community college, baccalaureate to doctorate). Her research seeks to recover counternarratives of race, schooling, inequality, and the law. Her extensively cited publications examine the ways People of Color utilize community cultural wealth to survive and resist racism and other forms of subordination. She is a first generation college student, a Professor in the School of Education at the University of California Riverside, and this year has been appointed as the Inaugural Distinguished Scholar in Residence at the Institute for Emancipatory Education at the Connie L. Lurie College of Education at San José State University.
Co-sponsors: Office of Equal Opportunity & Discrimination Prevention, Office of Diversity, Equity and Inclusion
REGISTRATION AT UCSB SHORELINE IS REQUIRED: https://cglink.me/2dD/r1418639