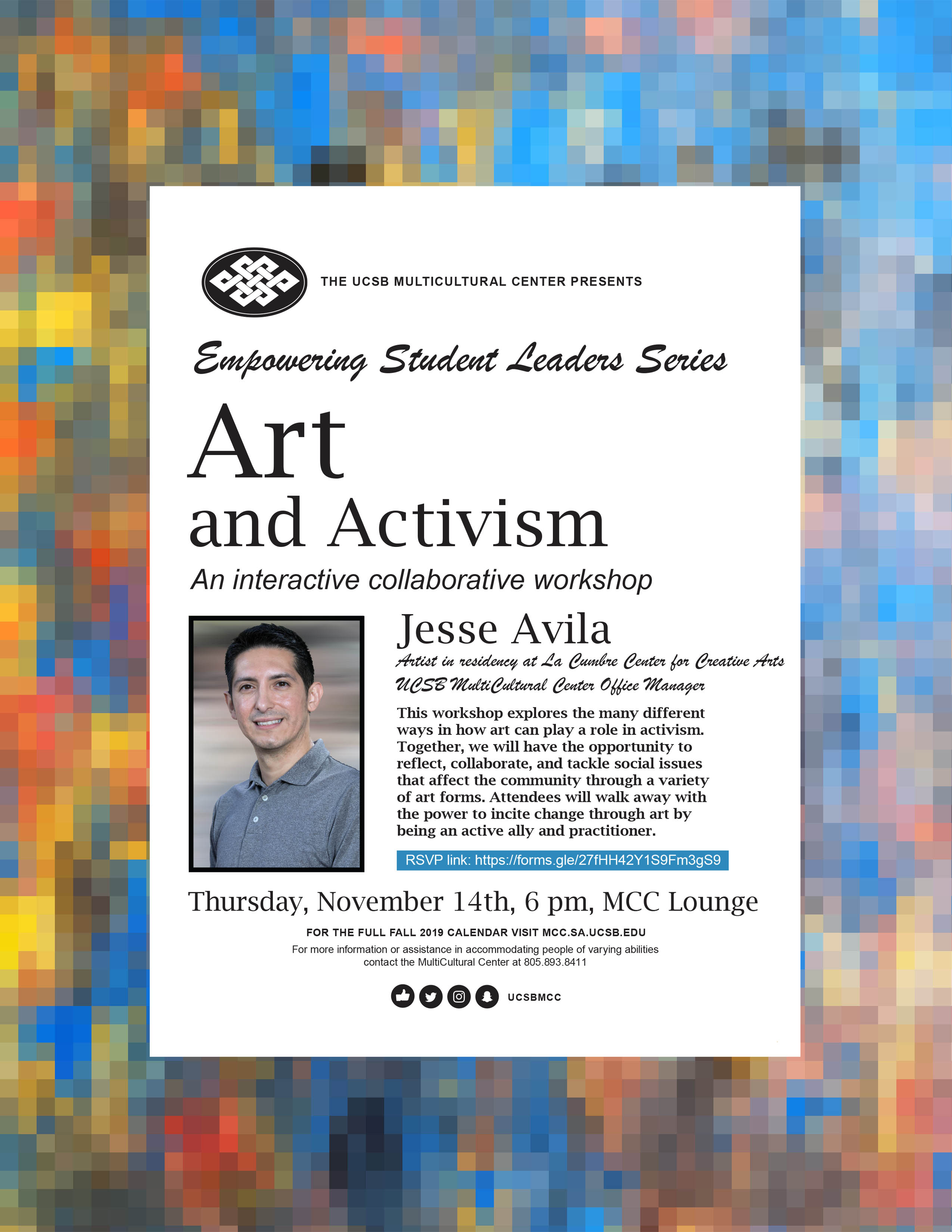 Art and Activism - An interactive collaborative Workshop
This workshop explores the many different ways in how art can play a role in activism. Together, we will have the opportunity to reflect, collaborate, and tackle social issues that affect the community through a variety of art forms. Attendees will walk away with the power to incite change through art by being an active ally and practitioner. RSVP.
Jesse is the artist in residency at La Cumbre Center for Creative Arts, and the Office Manager at UCSB MultiCultural Center.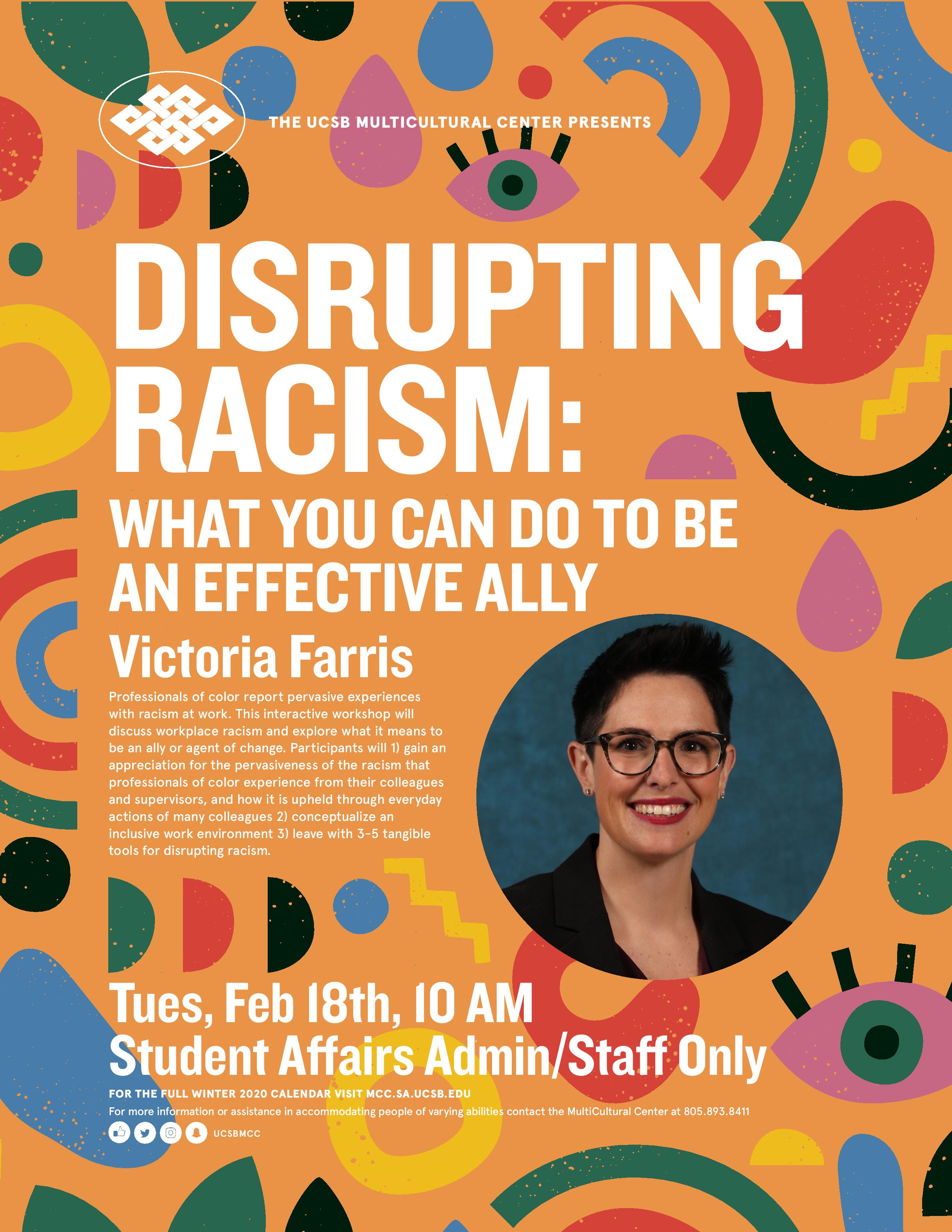 DISRUPTING RACISM
Professionals of color report pervasive experiences with racism at work. This interactive workshop will discuss workplace racism and explore what it means to be an ally or agent of change. Participants will 1) gain an appreciation for the pervasiveness of the racism that professionals of color experience from their colleagues and supervisors, and how it is upheld through everyday actions of many colleagues, 2) conceptualize an inclusive work environment, 3) leave with 3-5 tangible tools for disrupting racism. 
WHY SPACES ARE INHERENTLY NOT INCLUSIVE AND WHAT TO DO ABOUT IT
In order to effectively disrupt workplace racism, we must first be able to identify it. Often, folks with more privileged identities struggle to recognize the ways that whiteness and racism permeate office culture and how they contribute to it. Participants will 1) engage in dialogue around topics of identity, inclusion, and whiteness in order to build a foundational vocabulary and familiarity with topics 2) practice meaningful self-reflection, on both individual and organization levels, in order to recognize how they fit within systems of racism and oppression 3) leave with tangible tools and strategies for identifying and disrupting microaggressions in order to foster more inclusive campus environments.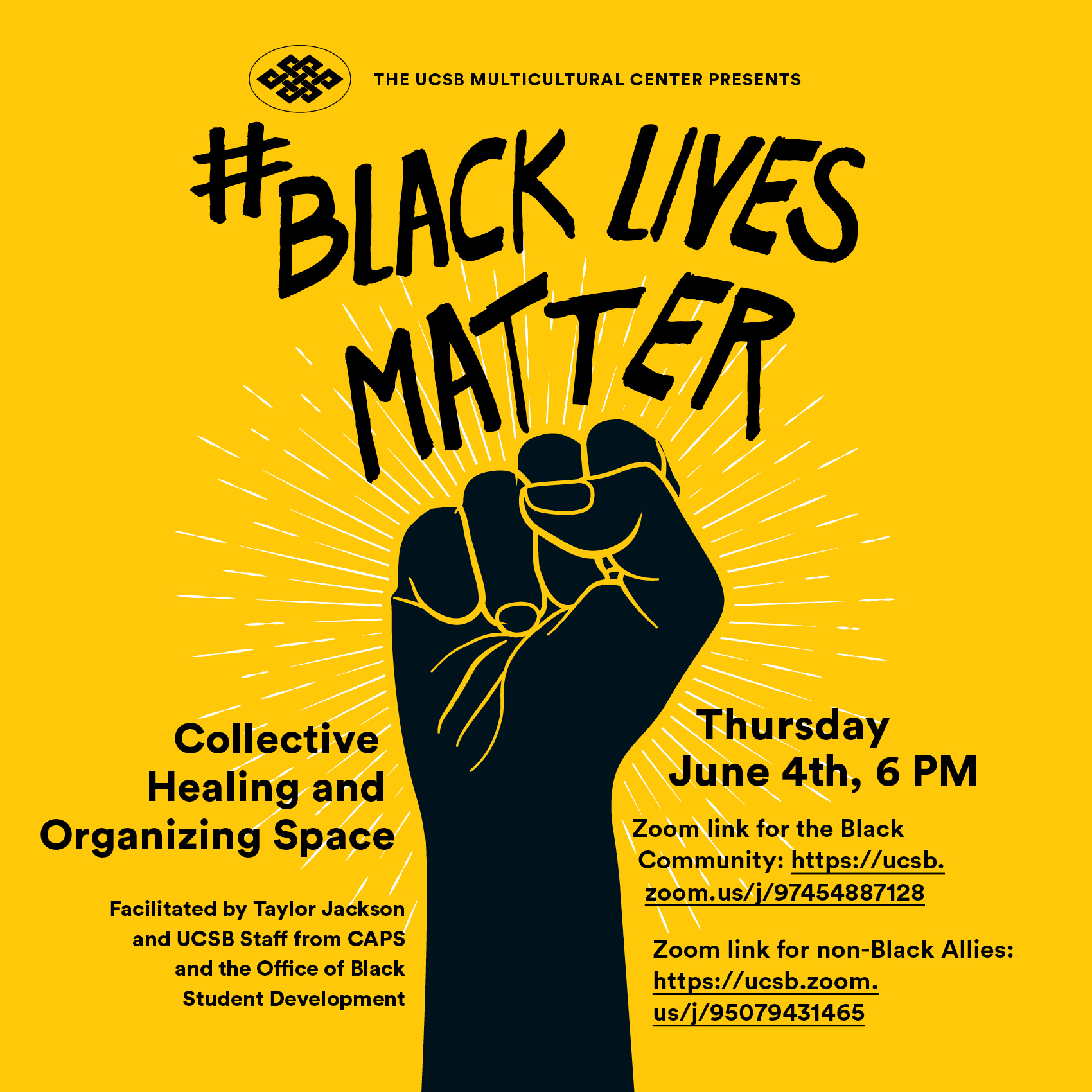 #BlackLivesMatter - Collective Healing & Organizing Space
Facilitated by Taylor Jackson and UCSB Staff from CAPS and Office of Black Student Development
There will be two separate spaces, one for Black folks and one for non-Black allies.
During the event we will have TWO Zoom CALLS:
1) For the Black community for healing/processing
2) For non-Black folks who want to be in solidarity with the community.
Please fill out the form to register: https://forms.gle/wC6HgZRw312PckNVA
Sex Work in the Time of COVID
Organized by Dr. Mireille Miller-Young and Dr. Terrance Wooten
New Sexualities Research Focus Group and The MultiCultural Center presents Sex Work in the Time of COVID. This panel will bring together the insight and expertise of three sex worker activists working and organizing in North America and Europe; including Sinnamon Love, BIPOC Adult Industry Collective, MF Akynos, Black Sex Workers' Collective, and Chiqui, Berlin Strippers Collective. 
This will be the first in a multi-part webinar conversation in 2021 focused on sex work and sexual politics in the time of COVID in a global frame. 
Organized by Dr. Dr. Mireille Miller-Young and Dr. Terrance Wooten. 
Co-sponsored by the Interdisciplinary Humanities Center. 
Collection of Resistance: A UCSB Student Covid Series Exhibition
Art Exhibit runs September 28 to December 10, 2021
Over a year and a half into the pandemic, community spaces have been impacted. To bridge the gap between the adversities caused by COVID-19, the many ongoing forms of systematic oppressions, and the human experience, the MultiCultural Center is hosting a student exhibition that emphasizes QTBIPOC experiences. 
This exhibition seeks to  highlight and give voice to marginalized experiences as we navigate a pandemic and collectively pave the way to envision and create a new future that holistically centers community, belonging, and social justice art.
Exhibition sample by UCSB student Olivia Averett.