The MCC and Academic Affairs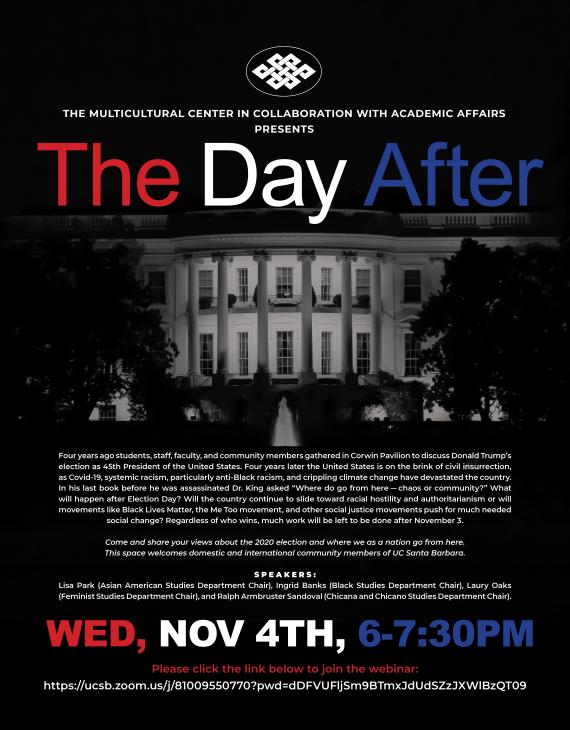 Wed, Nov 04, 6:00 PM
Online
Four years ago students, staff, faculty, and community members gathered in Corwin Pavilion to discuss Donald Trump's election as 45th President of the United States. Four years later the United States is on the brink of civil insurrection, as Covid-19, systemic racism, particularly anti-Black racism, and crippling climate change have devastated the country. In his last book before he was assassinated Dr. King asked "Where do go from here – chaos or community?" What will happen after Election Day? Will the country continue to slide toward racial hostility and authoritarianism or will movements like Black Lives Matter, the Me Too movement, and other social justice movements push for much needed social change? Regardless of who wins, much work will be left to be done after November 3. 
Come and share your views about the 2020 election and where we as a nation go from here. 
This space welcomes domestic and international community members of UC Santa Barbara.
Speakers:
Lisa Park (Asian American Studies Department Chair), Ingrid Banks (Black Studies Department Chair), Laury Oaks (Feminist Studies Department Chair), and Ralph Armbruster Sandoval (Chicana and Chicano Studies Department Chair).
Please click the link below to join the webinar: