Dr. Chanda Prescod-Weinstein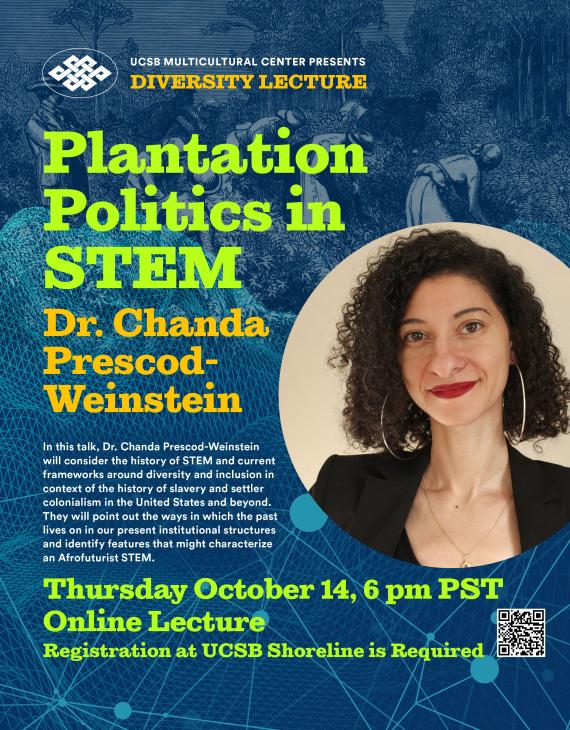 Thu, Oct 14, 6:00 PM
Online - REGISTRATION REQUIRED
In this talk, Dr. Chanda Prescod-Weinstein will consider the history of STEM and current frameworks around diversity and inclusion in context of the history of slavery and settler colonialism in the United States and beyond. They will point out the ways in which the past lives on in our present institutional structures and identify features that might characterize an Afrofuturist STEM.
Dr. Chanda Prescod-Weinstein is an assistant professor of physics and astronomy and core faculty in women's and gender studies at the University of New Hampshire. Originally from East L.A., Dr. Prescod-Weinstein is a graduate of Harvard College, University of California – Santa Cruz, and the University of Waterloo. One of under 100 Black American women to earn a PhD from a department of physics, she is a theoretical physicist with expertise in particle physics, cosmology, and astrophysics, with an emphasis on dark matter. In addition, Dr. Prescod-Weinstein is a theorist of Black feminist science, technology, and society studies, and a monthly columnist for New Scientist. Her research and advocacy for marginalized people in physics and astronomy have won multiple awards, and her first book, The Disordered Cosmos: A Journey into Dark Matter, Spacetime, and Dreams Deferred, is now available from Bold Type Books.
REGISTRATION AT UCSB SHORELINE IS REQUIRED.