Post film panel with the filmmaker Eli Jacobs-Fantauzzi; producer Kahlil Jacobs-Fantauzzi, and Puerto Rican activists Mariangelie Ortiz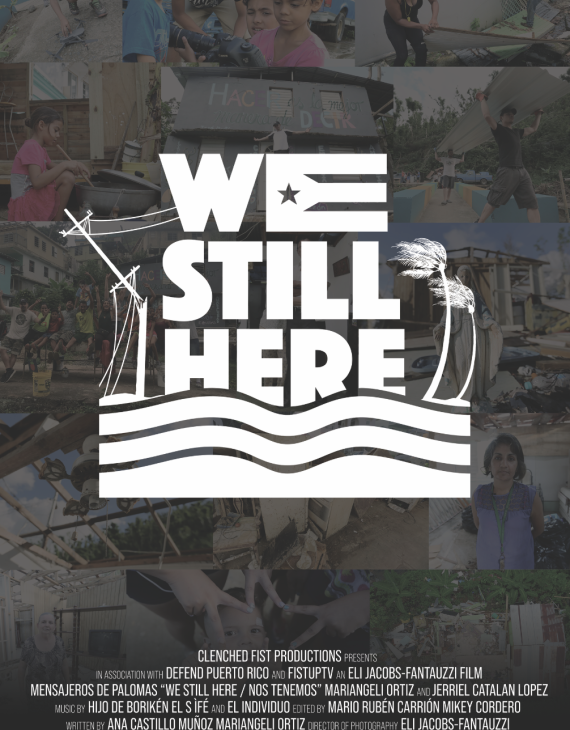 Wed, May 18, 6:00 PM
MCC Theater
"In response to the government's disregard and poor relief management during Hurricane Maria, young residents from Comerío, Puerto Rico activate themselves by taking control and transforming not only their lives but their community. WE STILL HERE / AQUÍ ESTAMOS introduces the incredible youth of Comerío, navigating the aftermath of Hurricane Maria, a disaster that brought an unprecedented level of devastation to an island already in an economic and political crisis. In the lush mountains in the center of Puerto Rico, 24-year-old Mariangelie Ortiz leads a group of young residents who never thought they would become the leaders of their community, nonetheless find themselves traveling to Washington D.C. to protest in the halls of Congress. Follow them in this coming of age story to find their power and begin creating a sustainable future for themselves and their community." 
Post film panel with the filmmaker Eli Jacobs-Fantauzzi; producer Kahlil Jacobs-Fantauzzi, and Puerto Rican activists Mariangelie Ortiz
Click to view a short glimpse of the documentary: https://www.westilherepr.com
Co-Sponsors: AdCRC
BIOS: 
Eli Jacobs-Fantauzzi is an internationally-recognized and award-winning filmmaker. He is the founder of @fistuptv a media platform uplifting and telling stories from communities across the world who refuse to be silenced. His work has circulated through National Broadcast: Free Speech TV, Teaching Channel, and PBS. Online he has created content for remezcla, okayafrica, TIDAL, and VIBE. Eli is the founder of Cine Solar Rodante, a solar cinema project run entirely on solar power. He is the co-founder of @defendpr , a multimedia project designed to document and celebrate Puerto Rican creativity, resilience, and resistance. His film @bakoso_cuba won festivals around the world and just received a national broadcast on World Channel. He is also currently curating his 13th Annual #FistUpFilmFestival in the Bay Area, California. His dedication to his craft is deeply connected to his commitment to social justice and the belief in the transformative power of film.
 
Kahlil Jacobs-Fantauzzi is a producer at Clenched Fist Productions- a media company dedicated to documenting the use of music and culture as a tool for social justice. He has teamed up with his brother Eli Jacobs-Fantauzzi on three award-winning documentary films- We Still Here / Nos Tenemos being the most recent. Kahlil completed his Bachelors Degree in Interdisciplinary Studies from UC Berkeley and a Masters Degree in Education and Technology from the University of San Francisco. His vision is to continue creating media, documentaries, and curriculum that speaks to the lived experiences of the African diaspora.*
 
Mariangelie Ortiz is currently leading a project in her hometown of Comerío to create a system for water distribution and collection. She will work with community leaders to replicate similar systems across Puerto Rico. She is a community leader who works with Defend Puerto Rico and La Maraña, which are community groups that document and support recovery efforts in the aftermath of Hurricane Maria. Mariangelie has focused her efforts to rebuild her community by improving water quality and providing wider access to clean water. She studied Strategic Leadership and Management at University Ana G. Mendez in Puerto Rico.