Panelists include Manjusha Kulkarni, Melissa Borja, Diane Fujino, and Artnelson Concordia, and moderated by Naomi Joseph.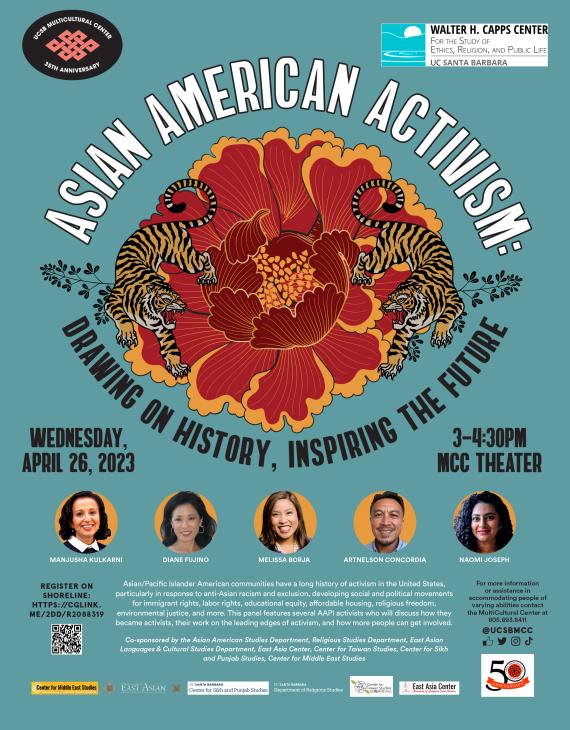 Wed, Apr 26, 3:00 PM
MCC Theater
Asian/Pacific Islander American communities have a long history of activism in the United States, particularly in response to anti-Asian racism and exclusion. In their struggle for equality and liberation from oppression, AAPI activists have developed social and political movements for immigrant rights, labor rights, educational equity, affordable housing, religious freedom, environmental justice, and more. This panel features several AAPI activists who will discuss how they became activists, their work on the leading edges of activism, and how more people can get involved.
Speaker Bios:
Manjusha Kulkarni, Co-Founder, Stop AAPI Hate; Executive Director, AAPI Equity Alliance
Manjusha P. Kulkarni, Esq., is Executive Director of AAPI Equity Alliance and Co-Founder of Stop AAPI Hate. Her work has been featured in the New York Times, on NPR and CNN, and was recognized with the co-founders of Stop AAPI Hate, Cynthia Choi and Russell Jeung, by Time magazine as one of the 100 most influential individuals in the world in 2021. 
Diane Fujino, Professor, Department of Asian American Studies, UC Santa Barbara
Diane C. Fujino is Professor of Asian American Studies at UCSB and co-Editor-in-Chief of the Journal of Asian American Studies. She has written or co-edited several books on Asian American and Black Power activism. She works in communities with Ethnic Studies Now! Santa Barbara and is designing curriculum for an Asian American Studies high school textbook.  
Melissa Borja, Assistant Professor, Department of American Culture and Program in Asian/Pacific Islander American Studies, University of Michigan
Melissa Borja is Assistant Professor of American Culture at the University of Michigan, where she is core faculty in Asian/Pacific Islander American Studies. She is a historian of migration, religion, race, and politics. She advises Princeton's Religion and Forced Migration Initiative and serves as the lead investigator of the Virulent Hate Project.  
Artnelson Concordia, Instructional Support Specialist for Ethnic Studies, Santa Barbara Unified School District; Co-Founder, Liberated Ethnic Studies Model Curriculum; Co-Founder, Coalition for Liberated Ethnic Studies
Artnelson Concordia is an Instructional Support Specialist coordinating Ethnic Studies implementation in Santa Barbara Unified School District. He is a leading practitioner in the movement to institutionalize critical and authentic Ethnic Studies in California public schools. This is his 23rd year in education.
Naomi Joseph, PhD Candidate, Department of Sociology, UC Santa Barbara
Naomi Joseph is a PhD Candidate in the Department of Sociology at UC Santa Barbara. She studies South Asian American social movements, activism, and culture. She is a co-convener of the UCSB Asian/American Studies Collective and past President of the UCSB Asian Pacific Islander Graduate Student Alliance. 
Co-sponsors: Walter H. Capps Center for the Study of Ethics, Religion, and Public LifeAsian American Studies Department, Religious Studies Department, East Asian Languages & Cultural Studies Department, East Asia Center, Center for Taiwan Studies, Center for Sikh and Punjab Studies, Center for Middle East Studies