Dominic Chambers, Damon Davis, Jen Everett, De Nichols, and Katherine Simóne Reynolds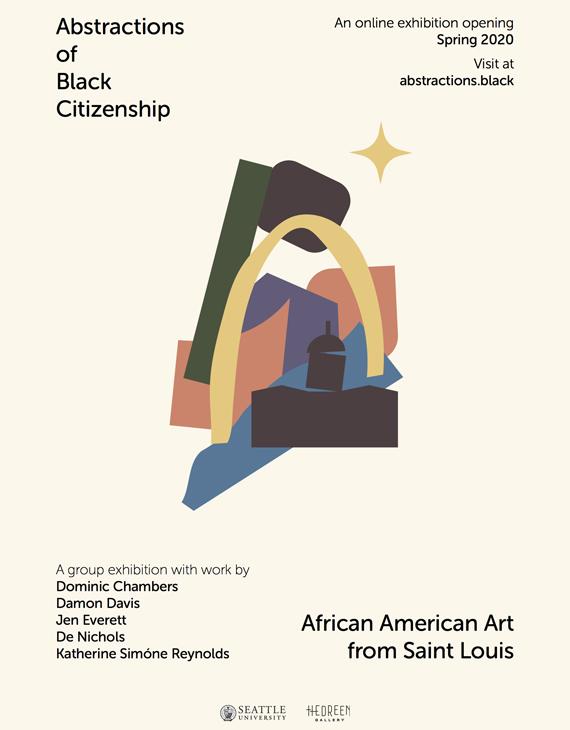 Thu, Feb 11, 12:01 AM
Online
Welcome to the virtual exhibition for Abstractions of Black Citizenship: African American Art from Saint Louis, a group exhibition of works by Dominic Chambers, Damon Davis, Jen Everett, De Nichols, and Katherine Simóne Reynolds, five Black Saint Louis, MO-based artists. Curated by Jasmine Jamillah Mahmoud, PhD, this exhibition presents painting, photography, mixed-media, works on paper, sculpture, music, and video. The exhibition runs February 11 - 28, 2021 in partnership with UCSB's Multicultural Center.
Within this online exhibition, there are 54 frames with seven themes, as well as introductory and concluding slides. To fully engage content, aim for at least 25 minutes. You are also welcome to engage within the time that you have available in various ways, such as by theme. For optional engagement, press on the square button at the bottom of the frame to initiate full screen view.
Find the exhibition below or at the following link: 
https://mcc.sa.ucsb.edu/node/2435
All images, sounds, and videos of the work are courtesy of each artist. All quotes from artists, unless otherwise noted, are from interviews conducted by the curator in 2020. You can find more about this exhibition – including the research guide (with sources cited through the exhibition), studio visit videos with each artist, and education guides – on the exhibition website.